GBK Bench Checkweighing Scales
Ideal for industrial settings, GBK and GBK-M scales are the answer for businesses needing heavy-duty durability and speed. With grade 304 stainless steel pans and rugged, non-slip rubber feet, these scales perform well in demanding environments.
Key Specifications
Capacity

6kg to 150kg
Readability

2g to 50g
Applications

Weighing

Parts counting

Percentage weighing

Checkweighing

Dynamic / animal weighing

Accumulation
Features

Backlit Display

Tare

Battery Power

RS-232

External Calibration

Date

Time

Multiple Weighing units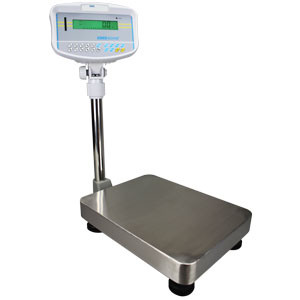 Streamline Checkweighing with GBK Bench Scales
GBK bench scales are purpose-built for checkweighing, batching, parts counting and general weighing. Checkweighing helps compare a weight against limits to determine if the weight is above, below or within your preset limits. With superb accuracy and intuitive features, stay on top of quality control, assembly and manufacturing processes. 
The recommended scale for demanding industrial and manufacturing tasks
Checkweighing LEDs
| | |
| --- | --- |
| Easily read under, over, and within acceptable weight limits with checkweighing LEDs. Yellow LEDs represent under limits, green indicates within limits and red denotes a weight over the pre-set parameters. | |
Capacity Tracker
| | |
| --- | --- |
| Monitor overloads and protect the internal components of your scale with the built-in capacity tracker. | |
Display
The backlit LCD display on the GBK is easy to read in any lighting conditions and features 20mm-high digits for reading at a distance.

Industrial Grade Construction
The GBK features a durable ABS plastic housing for the indicator display, matched with an easy-to-clean 300mm x 400mm grade 304 stainless steel pan
Versatile Display Options
The pillar-mounted display can be removed and wall mounted for optimal viewing of results
Trade-Approved Options
Choose from the five Mplus models for legal-for-trade applications
Durable and flexible, GBK bench scales provide a superb value for businesses that need a scale to perform multiple functions. GBK is well-suited for use on production floors, at bakeries, in shipping and receiving operations, at wholesale operations, and even during auctions. All GBK models feature a full numeric keypad and checkweighing lights to simplify operation. Approved GBK models are suitable for use in trade settings where goods are sold by weight.
Features and Benefits
Vivid, backlit LCD easily visible in any lighting conditions
Capacity tracker built into display for easily monitoring possible overloads
Checkweighing LEDs clearly show under, over and within acceptable limits
Checkweighing with audible alarm
Programmable backlight can be set to "always on," "always off" or "light only when weighing"
Colour-coded keys facilitate quick recognition of the most frequently used buttons
Level indicator and adjustable feet ensure proper balance setup for optimum weighing results
Large, grade 304 stainless steel pan allows easy cleaning
RS-232 interface provides speedy connection to computers and printers
Rugged construction stands up to industrial use
Sealed keypad protects against dirt and spills
Overload protection helps prevent damage to internal components
Rechargeable battery included for operation almost anywhere
Programmable auto power-off to save energy
Memory accumulation totals results
Parts counting with freely selectable sample sizes
Parts counting optimisation automatically refines piece weight as parts are added
Preset tare function speeds the process of repetitive weighing
Selectable digital filtering helps minimise effects of vibration and disturbances
Zero-tracking feature ensures display returns to zero reading
1:600,000 internal counting resolution
A 5-year warranty means quality assured for years of use.
Models
Downloads
Accessories
Here is a list of our available related products and suitable accessories: