Retail scales, also called commercial scales, price computing scales or point of sale scales (POS), are common tools used in commercial settings. You've probably seen them at grocery stores, bakeries, in delis or in candy shops. Not all retail scales are the same, and we're going to explore their different features and applications in this post.
What makes a commercial retail scale different from other weighing scales?
Retail scales are specialized commercial weighing machines that calculate price based on an item's weight. They have price computing software that allows users to put an item on the scale and have the LCD show weight, unit price and total price. Once the user inputs the unit price, the scale can calculate the total price from the weight.
In many countries, commercial retail scales must be approved as a way to ensure that consumers who are purchasing goods based on their weight, are actually getting what they pay for. There are approvals for legal for trade applications from various organizations depending on the country of origin. If you're shopping for a commercial scale, make sure the approval is recognized in the country you will be using it in! A commercial scale with EC type approval is legal in Europe, but is not recognized in South Africa, for example. Feel free to read our blog post on trade certified scales and approval to learn more about the different types of approval necessary for commercial applications.
Which features should you look for when buying a retail scale?
Aside from price computing abilities and legal-for-trade approval, there are several essential features any commercial scale should have.
Product Look-Ups, or PLUs, are very handy, especially if you work in a large store. They allow users to store products and their associated information, and bring it up without having to re-enter all the information. It's not a necessity for small stores or places that sell a single item, but it's handy if you have a wide selection.
A full, color-coded keyboard is quite handy whether it's to enter the unit price or to look up PLUs. It also allows a faster configuration and easy operation since the keys are labeled and you don't have a single key for multiple functions.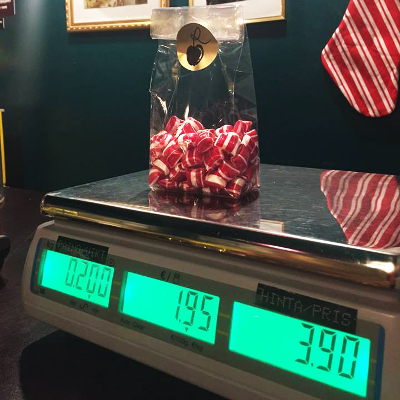 A dual display, meaning an LCD on both the back and front, is a very important feature. Showing the user and the customer the same information at the same time eliminates confusion or potential discrepancies, and streamlines the transaction.
The ability to calculate prices and display them in multiple currencies is useful if a shop is close to a border or in a tourist town, as is a multilingual display.
Being portable is a bonus, and a rechargeable battery allows the scale to be used it in different parts of the store and in settings when power isn't available, such as at a farmer's market.
A 304 grade stainless steel pan ensures swift and easy cleaning between customers and that frequent washings and products don't leave stains or damage the scale.
Solid ABS housing ensures the load cells are protected and the scale lasts a long time.
Other features found on retail scales
Robust feet to ensure the scale remains stable, whether it's on a table, a counter-top or unsteady surfaces. In order to ensure precision, a scale needs to be stationary and level. Some scales allow users to adjust the feet for more control.
Some features, like data communication with printers and computers, aren't unique to retail scales, and aren't a necessity, but can be useful for inventory management or printing labels.
An IP66 rating is also not a necessity, but it makes cleaning much easier and allows retail scales to be used in wet or humid places, or in stores where raw product is placed directly on the scale, or can drip from the packaging, like fresh fish or ice cream.
A zero tracking feature is quite practical, especially if the scale is used for a high volume of different objects in a grocery store or a chocolate shop.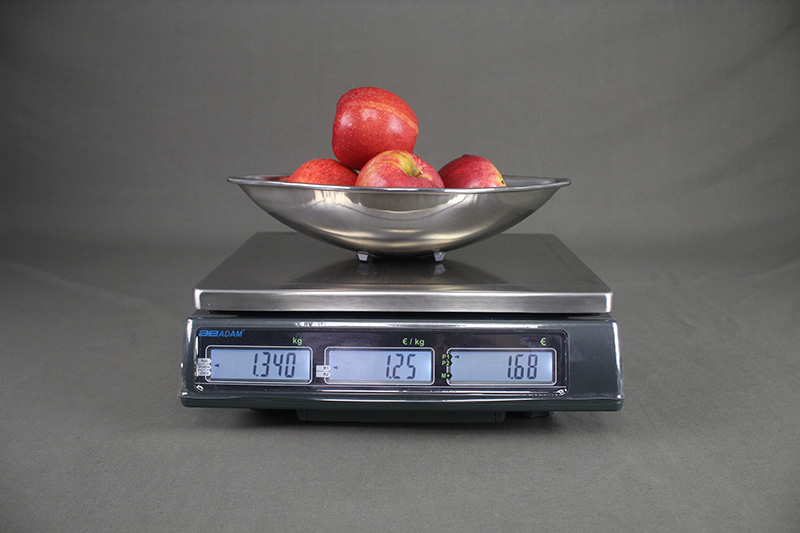 These aren't all the features offered by retail scales, merely the ones that are most useful at a glance.
Retail and price computing scales from Adam Equipment
Some commercial scales, like the Raven, are more basic and affordable, and are efficient and easy to configure.
The AZextra has an audible alarm to make sure the scale isn't overloaded, and an RS-232 interface to send data to printers and computers, which is quite useful for chain stores or high volume boutiques with inventory management software.
Remember to check the approval when buying a retail scale! For more information on commercial retail scales, don't hesitate to contact us.