Many people launch home-based businesses to earn extra money or become their own boss doing something they love, but it can get overwhelming balancing work and home life in the same location. Let's find out how shipping scales can be a convenient way to make those balances level.
What is a Home-Based Business?
A home-based business is any type of business that operates out of the owner's home. Many large companies make their start in the home, including Adam Equipment (which began in our founder's garage in 1972), while others prefer to keep their business small. Entrepreneurs who work out of their homes typically don't have access to a warehouse for product storage. This makes it difficult to stock enough to pack and sell quickly while also leaving room to live and work.
What is a Shipping Scale?
Shipping scales are designed to make the process of shipping and receiving easier by accurately weighing packages. For most home businesses, a floor scale with a capacity of 165lbs/75kg or lower will be sufficient, though some floor scale models have capacities up to 1320lbs/600kg.
How Can Shipping Scales Help Home Businesses?
Owning a home business is a lot of stress, particularly about how to best manage your time, save money and stay organized. Investing in a shipping scale for your home can help you on all three accounts.
Save Time and Money
The price to ship a package is based on its weight: the heavier the package, the more it costs. Having a shipping scale in your home allows you to know the weight of your package before you head to the post office or ship directly from home. This gives you the opportunity to determine what the cost will be. If necessary, you can then make adjustments to your package, such as choosing a different shipping material, in order to reduce the weight and save money. Scales like the CPWplus are ideal for applications that require this kind of basic weighing with its wide variety of sizes and configurations.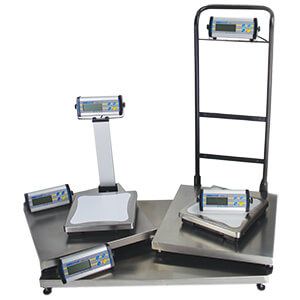 If your products need to be within a certain weight range, you may want to invest in a checkweighing scale such as the GFK. With a checkweighing scale, you can input high and low weight limits and be alerted when the product or package is outside of those parameters.
Organization
Having an orderly work area makes everything less stressful, including inventory. Using a shipping scale that has a built-in printer, like the BKT, makes organizing easier. The BKT can print customizable labels, bar codes and QR codes to help keep track of the number and weight of your products, so you can know what you have in stock with just a glance.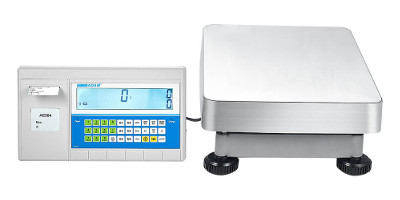 For home businesses that have an extensive variety of different products, a scale like the BCT Advanced Label Printing Scale, which has more than 1,000 PLUs (product look-ups), allows you to input your 1,000 most commonly sold products and bring up their information with a pre-determined look-up code, saving you the hassle of keeping track yourself.
If you're ready to buy a shipping scale for your home business, click here to access our quote request form.
Have any questions? Contact us for more information.