Scales are used in many facets of agriculture and animal husbandry. In this post, we'll discuss how they're used during the production, sales, and consumption of hay. Buyers and sellers alike can reap the benefits of weighing hay in sales transactions and when measuring animal feed.
How weighing scales are used to measure animal feed portions
Scales are used by pet owners, breeders, trainers, and farmers to weigh the amount of hay an animal consumes. This ensures that animals such as cattle or horses are fed the proper amount of hay to maintain optimal weight.
A hobbyist buying hay to feed a single horse does not need the same scale as a farmer who needs to feed hundreds of cows. Before buying a scale, decide how much hay you'll be weighing. That will help you determine the required capacity and readability of the scale you need to purchase. The checkweighing function is useful to create consistent portions. It can also help new hires quickly confirm feed quantities. The right scale can help owners keep animals at a healthy weight and reduce waste considerably, resulting in cost savings.
Why scales are used for selling hay by weight
While hay is often sold by the bale, it's becoming more common for sellers to use certified scales to sell hay by weight. There can be a significant weight variance between hay bales, and buyers could lose money purchasing by the bale without knowing its actual weight.
For hay sales, you might need a scale or indicator approved for commercial use to comply with the law.
People who weigh hay sometimes need to weigh grains, crops, produce or animals. It might be more cost-effective to purchase one versatile weighing instrument with a large pan or added features and functions, instead of buying separate scales for each weighing task.
Types of weighing scales used to weigh hay
Hanging scales
Compact, lightweight and sturdy, hanging scales offer a practical way to measure hay. They provide convenient and safe remote-control operation and are ideal for use in locations where electricity isn't readily available. They're available in a wide range of capacities and feature a vivid display that's highly visible from a distance, excellent for use during auctions.
Weighing beams
With weighing beams, users can place bales of hay on the beams to verify the weight. Featuring a low-profile design, pallet beam scales with handles and wheels are easy to move and store. Weighing beams such as the AELP are built to last, with enclosed load cells and a shielded cable. They can serve as cattle scales when combined with weighing platforms, cattle crushes or cages.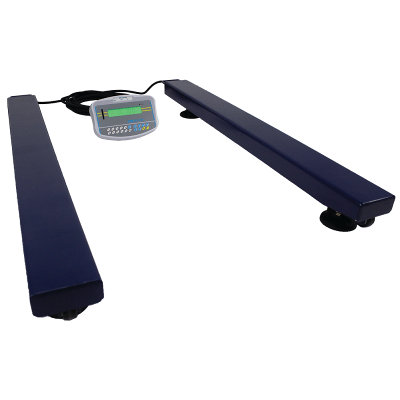 Bench and floor scales
A small bench or floor scale can adequately weigh individual servings of hay for one or two animals. While they can't be used to weigh a bale, they can be used to measure food portions. The stainless steel pan and high IP-rating on instruments such as the Aqua Washdown Scale or the Warrior Washdown Scale makes clean-up easy.
Platform scales
To measure large batches, a wide, low-profile platform can be paired with an indicator. Platforms with ramps allow hay bales to be rolled onto them for fast, simple measurement. Platforms come in many different sizes, capacities and surfaces (such as diamond-plate textured or stainless steel). They're designed to be sturdy enough to handle daily rigorous weighing.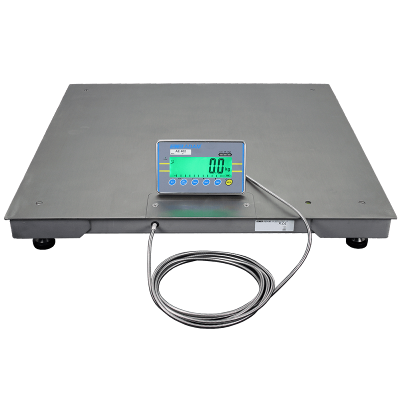 Some things to keep in mind
Using the right scale can save you time and money, and also help you ensure the quality of the hay. For reliable, consistent results, calibrate your scale frequently. Portioning livestock feed is fast and easy with a scale. For more information on finding the best scale for your needs, contact us, or reach out on social media.