You may have noticed something quite different about Adam lately. After months of crafting and developing a new and improved experience for you, we've officially launched our new global website! This blog will discuss some of the many features that you'll be able to enjoy as you peruse our products and provide a walk down memory lane of some of our previous websites dating all the way back to the year 2000.
Product Finder
Do you have some product requirements in mind, but you're not sure which of our scales or balances is the perfect fit? With our expanded Product Finder feature, the search is simple. Enter your most desired traits, such as a capacity of 32kg and an IP68 rating, and you'll be able to see a full list of products with those characteristics. In this case, the Aqua Stainless Steel's ABW 32S model!

Individualized Industry Pages
Our products are utilized in a multitude of different industries, and we've chosen to deep dive into our top on our new website. When you hover over your target industry on our industries dropdown, you'll see a list of applicable scales, balances and accessories for that industry. Simply click on a product category to see a description on how those products make a difference in that industry.
Product Support
Now, you can go to the Support section in our menu and type any product into 'Find support for your Adam Scale, Balance or Accessory.' Click here to see the product support page for our Luna Analytical Balances. Not only is there a simple step-by-step to setting up the product, but the page also contains everything you may need related to the product – software downloads, user manuals, parts information and so much more! We dedicate ourselves to continuous improvement, so these pages, along with most others, will regularly be updated as necessary.
More Detailed Product Pages
In addition, you'll find that our product pages have much more information now. Besides the basics, we've added enhanced content that will help you gain a more thorough understanding of each product. This includes photos of the product in action as well as their stand-out features and helpful videos demonstrating basic use. You'll have everything you need to make your final decision.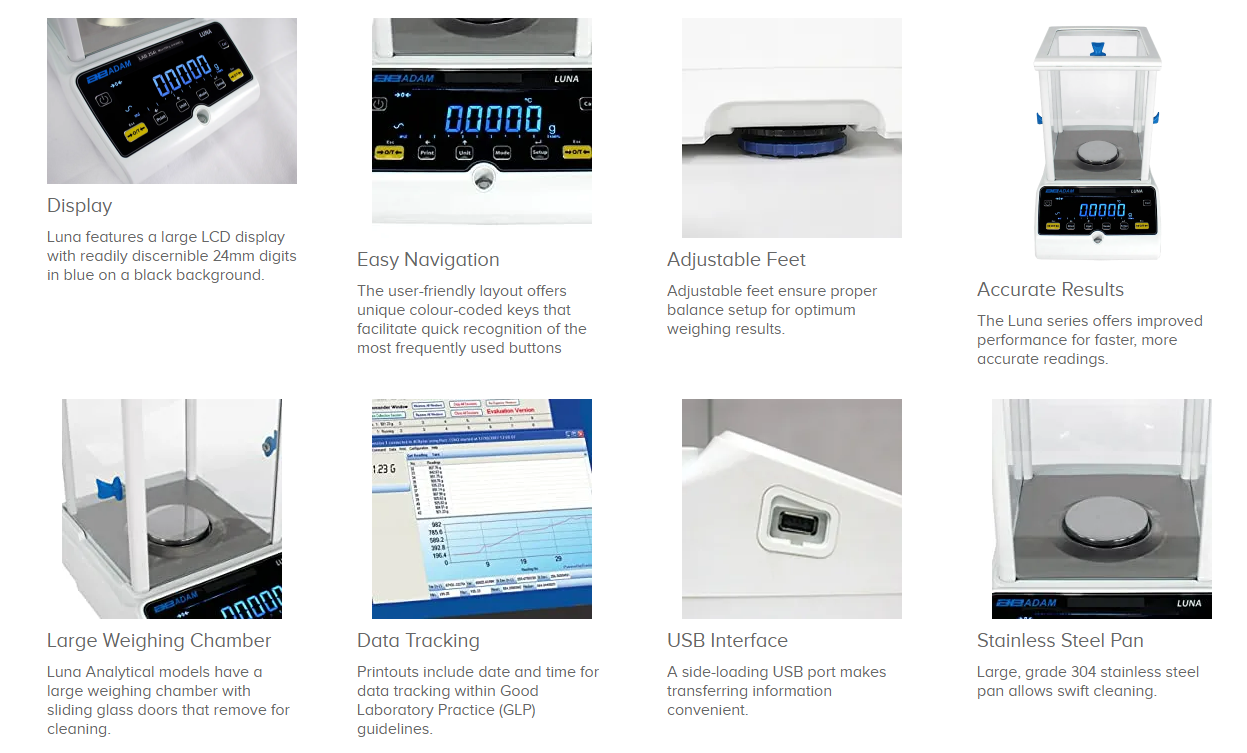 Improved Resources
Our comprehensive Resources and Blog page is a goldmine of knowledge and information. Select Blogs under Categories to access our fantastic selection of articles (like the one you're reading right now!). They range from addressing frequently asked questions, highlighting both common and unique applications for scales and balances, all the way to guides on best practices when using your product.
Furthermore, we have whole sections dedicated to Technical Support Guides, Education Resources, Application Notes & Case Studies, Press Releases, Events, and Videos. You will never be flying blind when you're on our website.
Product Compare
Another feature that you may find useful when deciding between products is our product compare. You can select up to 4 products, either wider ranges such as the Solis or Equinox, or specific models, such as the EAB 225I and the EAB 314e. Simply add items to the comparison tool, then you'll be able to see a direct, side-by-side comparison of the product's capacity, readability, applications and more. Then, if you want to save the comparison for future reference, you can click the Print This Page button and save it as a PDF.

We are excited to provide a more intuitive and versatile operating experience on our website. Please feel free to email us at marketing@adamequipment.com with any questions you may have as we all adjust to this welcome change.
This is What 50 Looks Like
Adam, founded in 1972, recently celebrated its 50th anniversary, but our first website didn't come around until the year 2000, only 23 years ago. These images of our home pages from 2000-2023 represent how far we've come in such a brief time.
2000 – 2006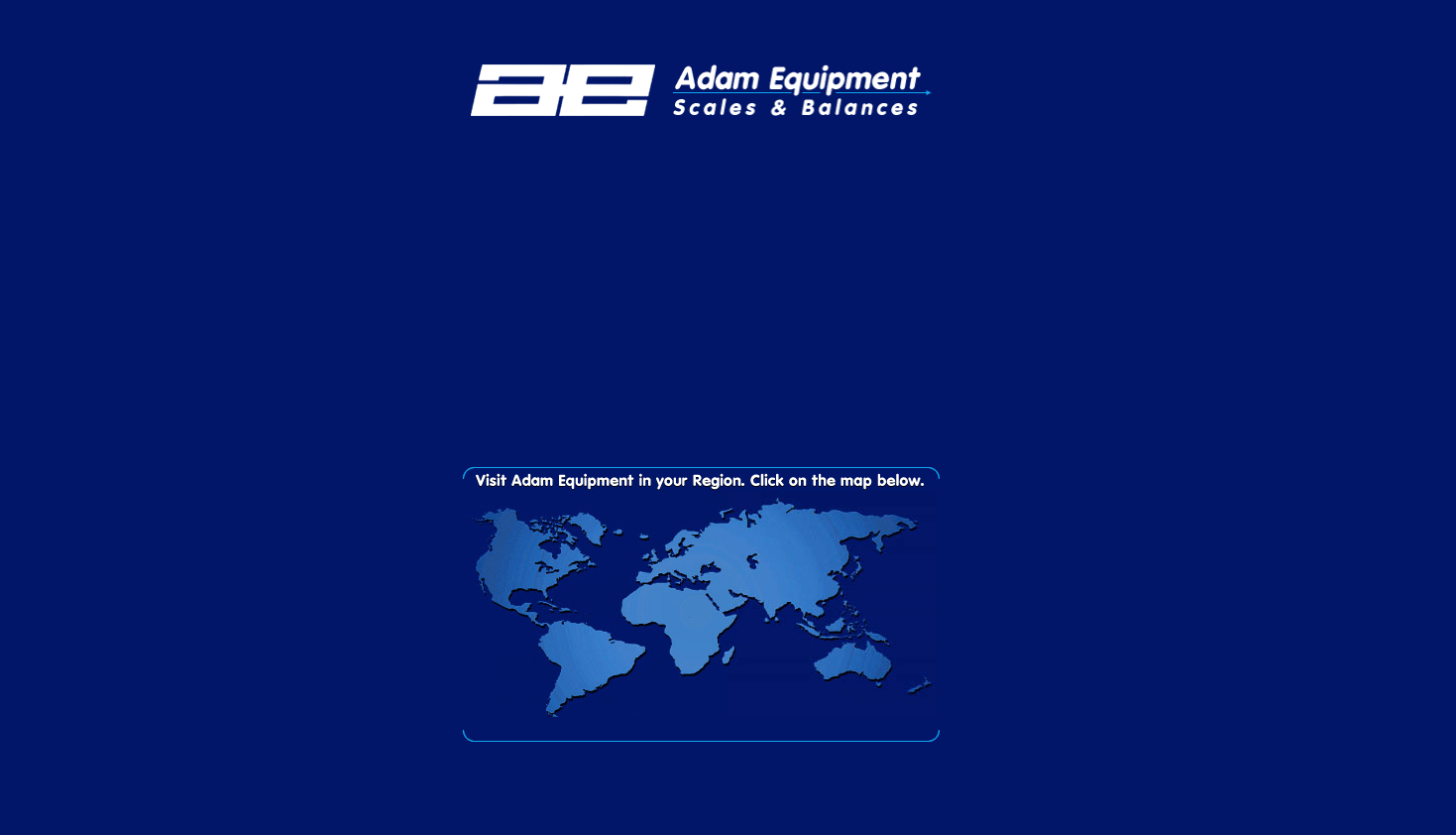 2007 – 2012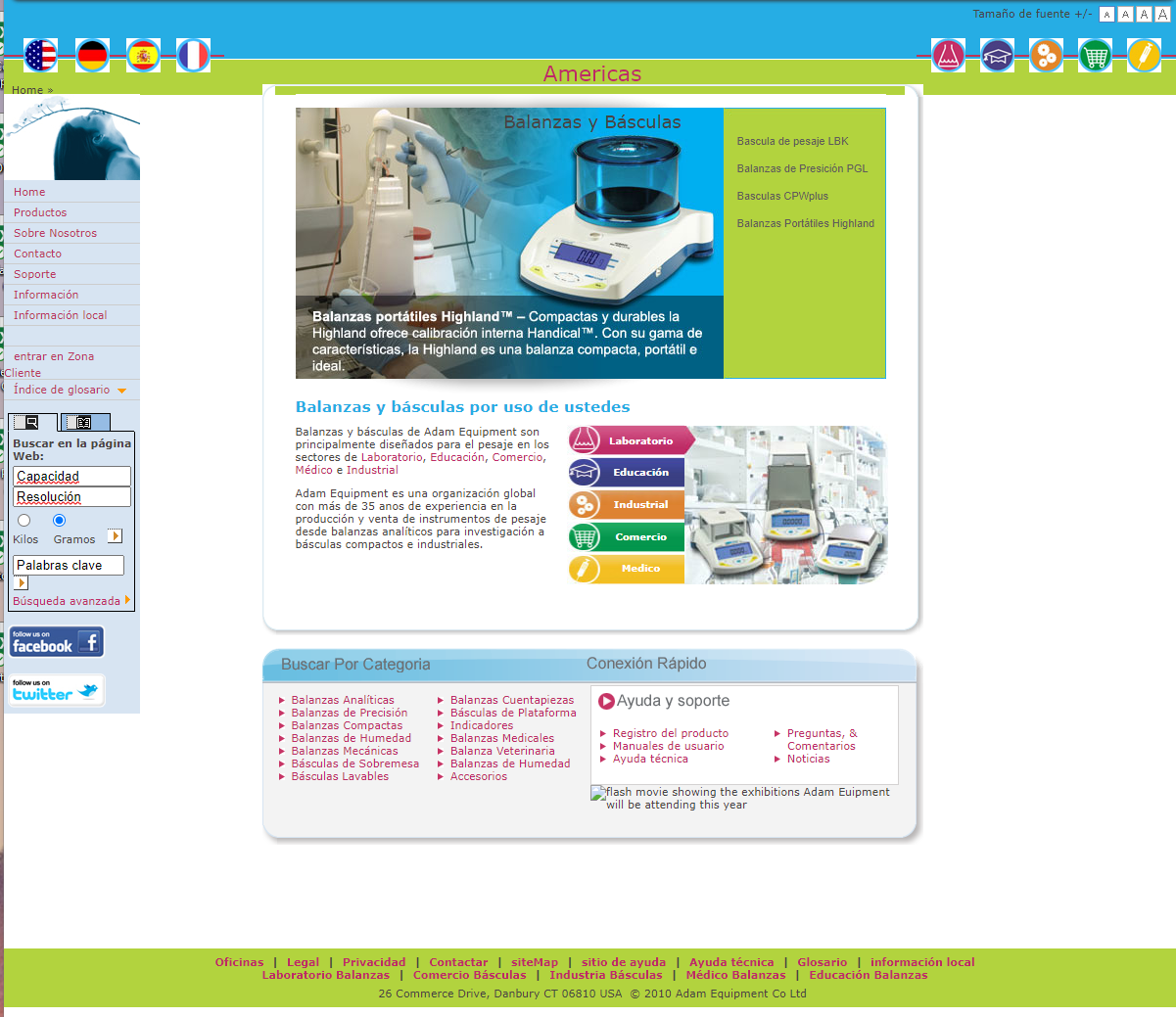 2013 – 2016
A few cosmetic changes go a long way! Fun fact, our first blog, How to Calibrate a Pipette with a Balance, was released in December of 2016.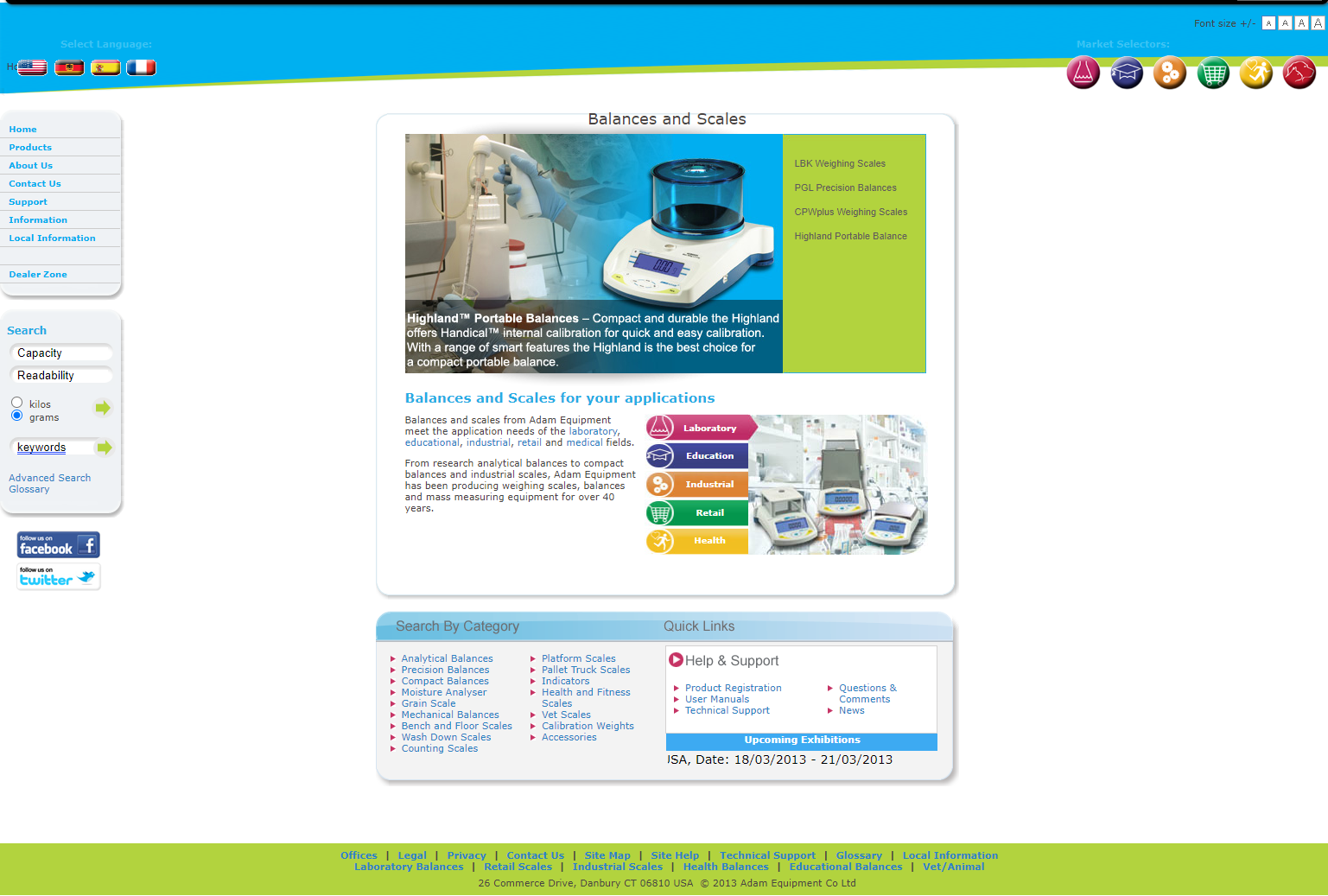 2017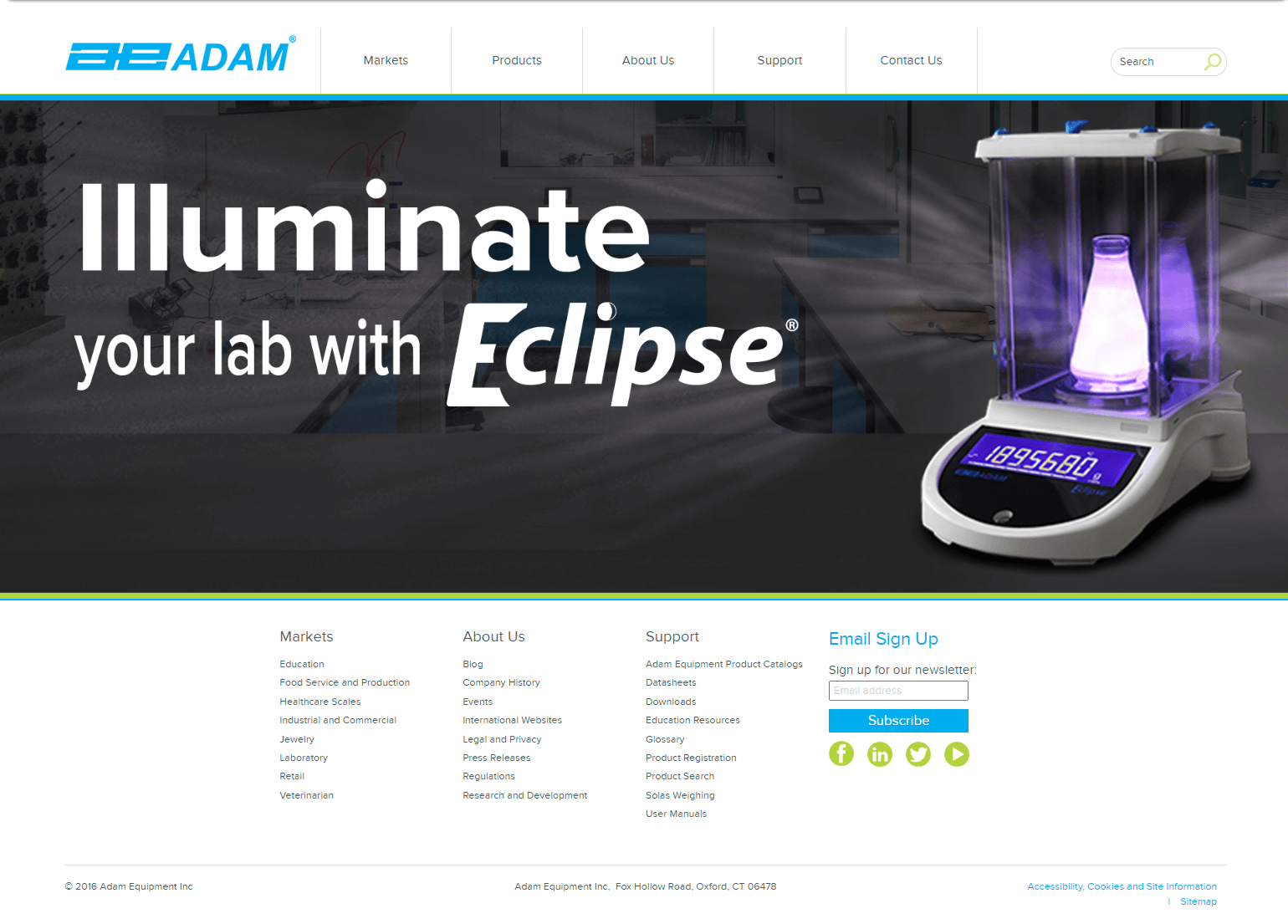 2018 – 2022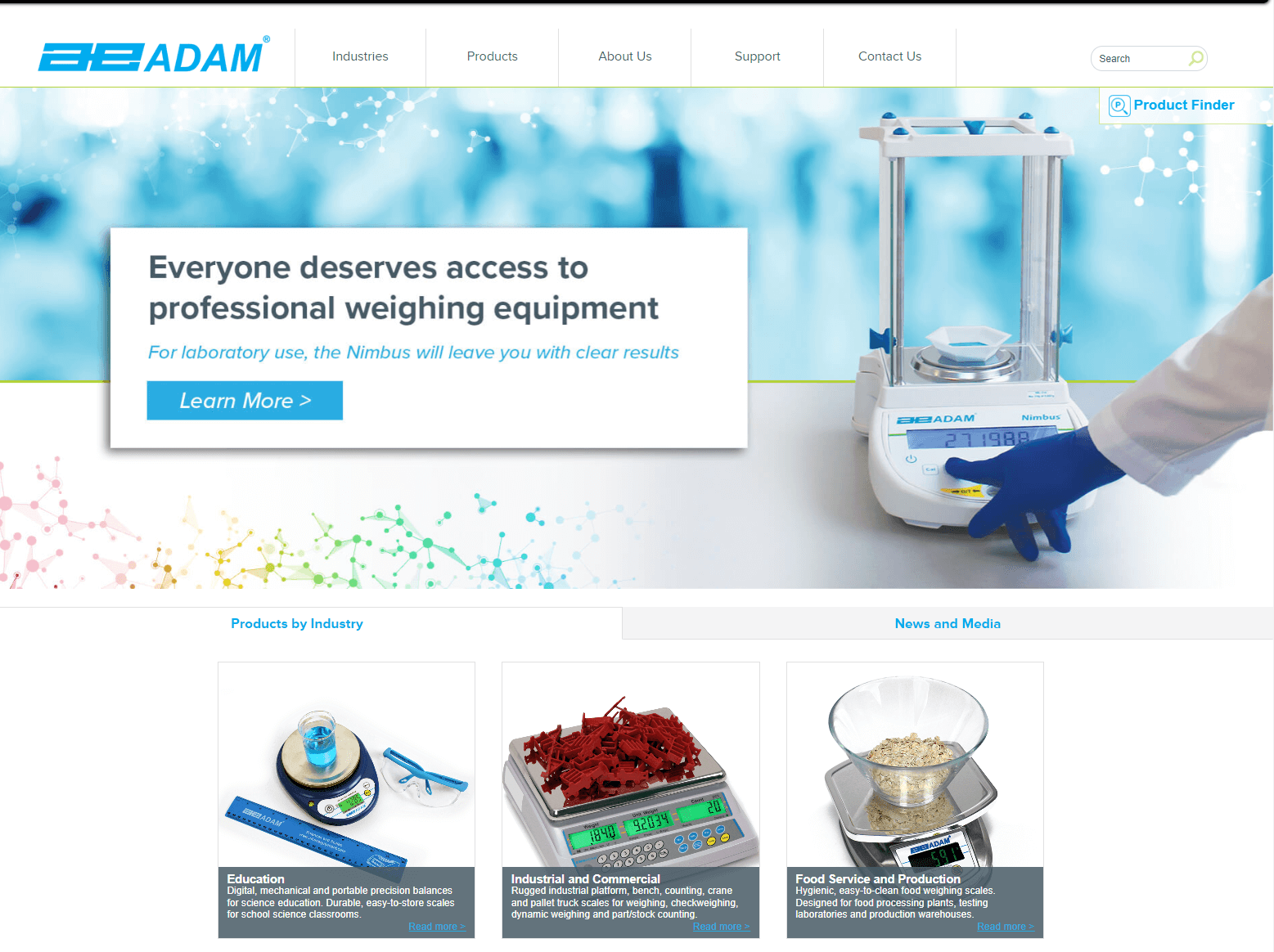 2023
And of course, this year! What a transformation.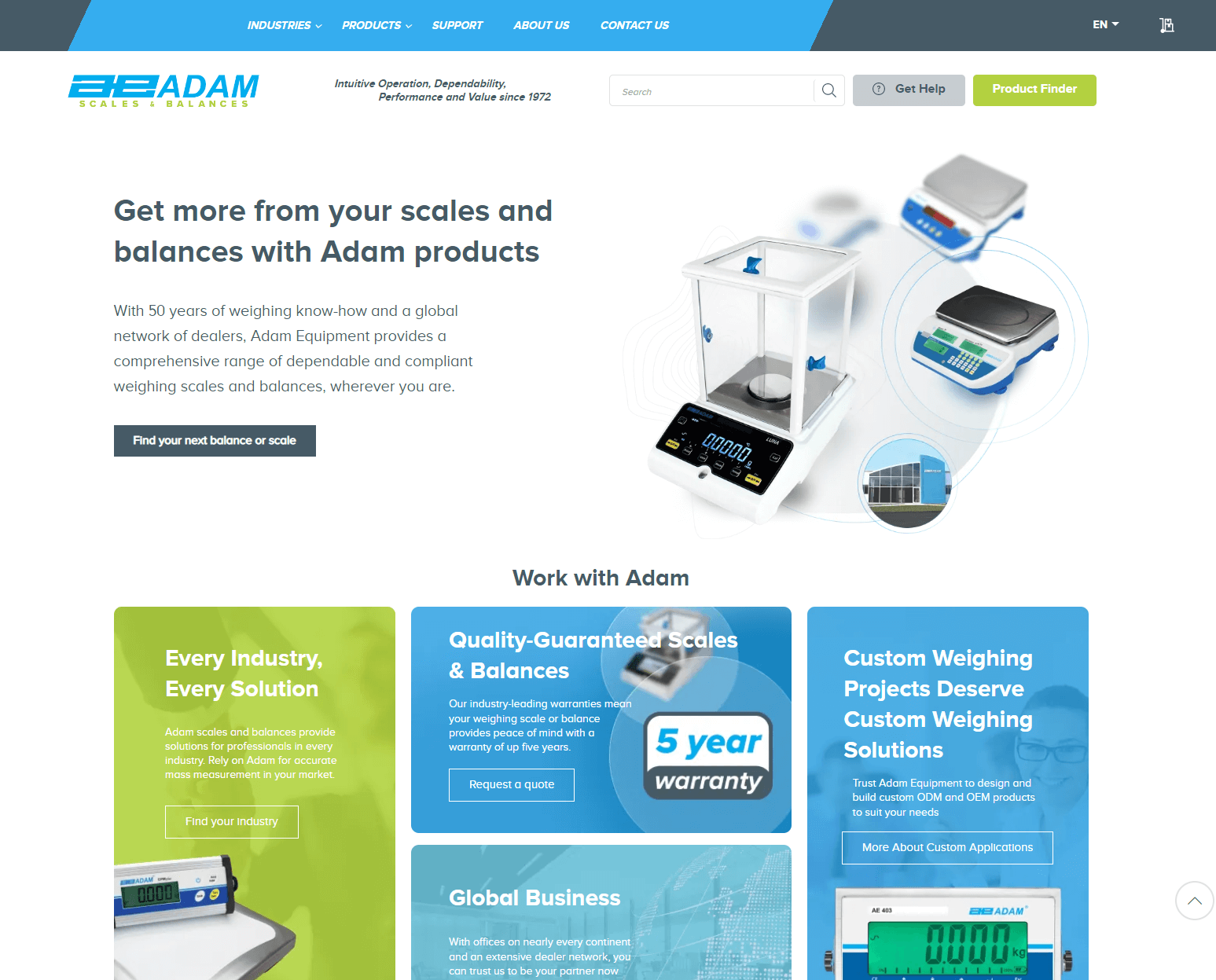 We're looking forward to growing and developing more in the years to come!